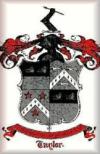 The Coat-of-arms is blazened;quarterly, first and forth, azure, on a chief sable, two boars heads argent: second, argent, a chevron ermine between three grayhounds azure; third, argent chevron ermine between three mullets azure.
Crest: A dexter arm embowed in armor, the arm grasping a javelin
Motto: Consequitor quodeunque petit-
He accomplishes what he undertakes.


The name of Taylor all along the ages has had a variety of forms. For example, Taylefer, LeTellyur, Taillour, Tailyour, which is the old Scottish form, Tailleau, Tayleure,Taylurese, Taylour, Tayller, Taillir, and Taillor.
Present day orthography is reduced to the forms, Taylor, Tailor, Tailer, Tailler, and in rare instances, Tayloe.


A COAT of arms is an emblem or a dievice which is displayed by titled persons, persons of royal blood, and their discendants.V Coats of Arms were originally used for purposes of identification and recognition on the field of battle as well as in civil life.
It is claimed by some writers that Coats of Arms, in a crude form, were used by Noah's sons after the flood. There are records of other Coats of Arms, in one crude form or another, at different periods of ancient history. Heraldry, however, as we know it today, did not become of much importance until soon after the invasion of England by William the Conqueror, A.D. 1066. Heraldry became or general interest at about the time of the Crusades.
The Taylor Coat of Arms is the Arms of Taylor, Earls of Bective and Marquises of Headfort. Coats of Arms very similar to it are used by other great Taylor families, and numerous branches of the family have Coats of Arms resembling it.
This is the most widely used of all Taylor Coats of Arms, and has been in existence for many centuries. It is described in BURKE'S GENERAL ARMORY, BURKES'S LANDED GENTRY, BURKE'S PEERAGE AND BARONETAGE, and other reliable works on heraldry, in some cases accompanied by illustrations and pedigrees. In the opinion of established authorities, practically all Taylor families in America claim this Coat of Arms.


HERALDIC LANGUAGE ENGLISH DESCRIPTION
Arms........... Ermine, on a chief gules, a fleur-de-lis between two boar's heads, couped and erect or. An ermine shield (white with black spots), bearing across the upper half a red band on which is a fleur-de-lis between two boar's heads, all gold.
Crest............ A naked arm embowed grasping an arrow proper. A naked arm, bent at elbow and grasping an arrow, all in natural colors.


Motto........... Consequitur quodqunque petit. (Latin) He obtains whatever he seeks.


The boar's head was once the chief dish at Christmas feasts in palace and castle. When England's sovereigns kept Christmas or yore in their noble halls at Guildford, Eltham, Westminster or Windsor, in high estate, arrayed with crown and sceptre, closthed in ermine and surrounded by their wondering subjects, it was brought to their table with great ceremony. The introduction of the great dish was accompanied by music and singing... often by the song reprinted below.
"Caput Apri refero
Reddens laudes Domino.
The bore's head in hand bring I
With garlans gay and rosemary,
I pray you all sing merrily
Qui estic convivio."
"The bore's head, I understande,
Is the chief servyce in this lande
Loke wherever it be fande,
Servite cum cantico."
So is explained the significance in the Taylor Coat of Arms of the golden boar's heads on either side of the fleur-de-lis, ancient symbol of nobility.
Sir Bernard Burke, of Heralds College, London, said "Heraldry is prized by all who can show honorable ancestry or wish to found honorable families."
Besides its family significance this Coat of Arms makes an excellent mural decoration and inspires the admiration and comment of all who see it.
It is quite appropriate that members of the Taylor family who have a pride in their ancestry should display the family Coat of Arms, in proper colors.